Golo is a winery in Montepulciano
Poggio Golo, Wine & Villa
Golo Winery is a boutique winery a few kilometers from the center of Montepulciano, located in the production area of Cervognano, considered to be one of the best areas for wine production.
The current "Poggio Golo – Wine & Villa" project started in 2021, the year of the first harvest after the purchase of the property by Niall and Paari. Their love for Italy and passion for Poggio Golo led them to become farmers and wine producers in Montepulciano and to bring their international experience to an entirely new world.
Golo Winery Montepulciano
Golo Wines
Red wine and Nobile wine
Nobile and Rosso are considered among the most important wines in Tuscany
Noble and Red
Sangiovese grapes
These grapes give the wine character, structure and complexity.
DOCG
product excellence
Denomination of Controlled and Guaranteed Origin, the highest recognition for a wine.

Balanced structure
Prestigious wines
A balanced structure, with soft tannins and a pleasant acidity
Culinary pairing
Perfect accompaniment
Ideal for meat dishes, cheeses, pasta and typical dishes of Tuscan cuisine.
Montepulciano
Expression of the territory
Each sip represents a unique experience that reveals the richness of the Tuscan territory
A unique terroir
Montepulciano is the pearl of the Tuscan Renaissance, a stunning hill top town with Etruscan roots, Montepulciano is located between the valleys of Valdichiana and the Val D'Orcia, in a hilly area surrounded by vineyards. The territory has been dedicated to the production of wine since ancient times. The richness of the soils ranging from clay (at higher altitudes) to sandy (at lower heights) and with a variety of micro climates make this area the perfect home for the Sangiovese grape. Sangiovese (in particular the Prugnolo Gentile variety) is the primary grape used for the production of Vino Nobile di Montepulciano and Rosso di Montepulciano.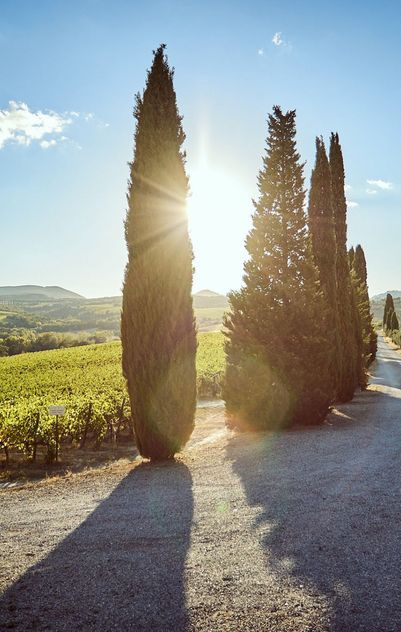 Receive offers and news to your email